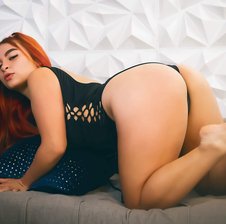 mia-lujann
Zaprati
Obavesti kada je online
19, Jarac, Colombia
Poslednje prijavljivanje:
24.10.23. 05.06.50
Važni detalji o
mia-lujann
| | |
| --- | --- |
| Pol | Žensko |
| Zanimaju me | Žene, Muškarci |
| Godine | 19 |
| Visina | [150cm - 160cm] |
| Težina | [45 - 55 kg] |
| Kosa | Riđokosa |
| Oči | Braon |
| Etnička pripadnost | Latino/Hispanjolci |
| Jezici | Engleski, Španski |
| Stidne dlake | Obrijana |
| Grudi | Velike |
| Dupe | Srednji |
I am excited by an educated, chivalrous and generous man who gives me orders on how to make myself his erotically, using my fingers, my toys and my whole body
Hello! Welcome to my room! You will find in me the best way to satisfy your desires, we can play, talk or have the hottest show, tell me what attracts you to me and I will give myself to your desires, please
I get angry when someone is rude with me. I don't like that. I can be too naughty and sometimes I enjoy to be treated like a bad girl but jsut when I have sex, when we are having a good time togeher, slap me, I deserve it, treat me bad but out of that, just treat me like a delicate baby girl.
Šta sve radim na veb-kameri:
1

MY GREATEST DESIRE, TO TRAVEL
I am a girl who likes to experiment, I would like to know the whole world, step by step. My greatest desire is to begin to know all my country and the rest of the world.
Pročitaj više
2

It will be a gift for you and me, we will love it and we will play together, help me reach my goal of 20,000 tokens
Pročitaj više
3

Pročitaj više
4

Every penny is well received to fulfill the reason for buying a car, I do not intend to buy the most luxurious, for the moment I would love to have something to transport me
Pročitaj više